A few days ago I was awarded the Versatile Blogger Award (Whooo Hoooo, Yey me :p )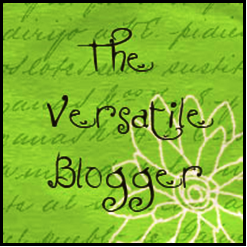 1St rule is the link back, so…
MWAH to PinkOddy
Then, I have to tell you 7 Random things.
Random I can do… I like Random
1. I love bananas, but I hate banana flavoured things. Banana milkshake is just devil made. Does anyone actually like it?? *Shudder
2. When I make beans on toast, I dont actually put the beans on the toast. I like to arrange my toast around the edge of the beans, so my toast doesnt get soggy.
3. I cant stand crumpled sheets when I go to bed. I dont make my bed in the mornings, I make it at night before I get in it.
4. I live in my crocs, I know its such a fashion faux pas but, they are comfy….. and I am sorry, comfort beats fashion (Just dont tell Gok Wan)
5. My real name is Helen
6. For some reason I always touch the kettle before I switch it on, even if I have only just boiled it
and 7. I am actually quite anti-sociable. I hate visiting people, I dont like visitors that stay for hours on end, and I am not too fussy on parties either.
Now I have to pass on the award to 5 other bloggers that I have enjoyed and feel deserve an award
2. Mamapolitico