These were out when I had my 4th & 5th babies, but never really saw the fascination of them. Firstly they looked HUGE, and would take up so much room, and how much enjoyment could they actually get from bouncing around anyway??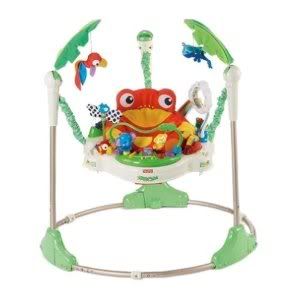 Well I gave in when number 6 came along. He is certainly a baby that likes being on his feet, and there is only so much arm ache a mum can cope with holding him up so he can 'stand'
So we scour around to find the best deal, do we buy new or 2nd hand. In the end we decided to buy new, we ordered online from Mothercare, and I must say they were very good and delivered it efficiently.
Carl spent about 20 minutes putting it together with the help of kiddies number 3, 4 & 5. I think he would have managed it much quicker on his own.
We popped 6 in there and waited with anticipation and…. yes he cried.
Not to be disheartened we tried again the next day and his little legs were just a bit too short, so poor dog had her bed stolen just to give 6 that little boost. Well that was it. The little kangaroo LOVED to bounce and jump and got the hang of it fairly quickly. It took him a little while to figure out that there were toys behind him too and slowly is managing to move around now to reach the new and exciting toys.
6 is almost 5 months old now. I predict there will be a lot more usage of the Jumperoo over the next few months, and I only wish I had of given into the peer pressure when I had 4 and bought one then.